SICILIART
arti visive, musica e gastonomia siciliana in Spagna

Monzòn 2006
ARCHIVIO


VILLA BARILE - VIE DELLE CALCARE S.N. CALTANISSETTA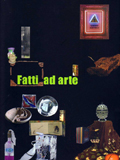 ARCHIVIO



ARCHIVIO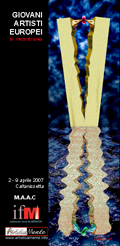 ARCHIVIO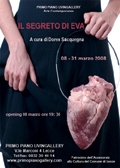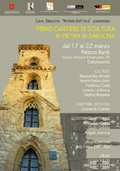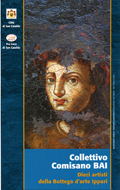 ARCHIVIO ARTISTI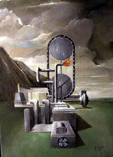 GIOVANNI GRECO
link ospiti
BRIDGES 2 - ROUNDTRIP

PHOTOGRAPHERS MAY 15 - JUNE 5

2021
PAINTERS & GRAPHICS JUNE 6 -JUNE 27
SARA DI VENTURA LACHUR

"Looks" - oil on canvas - cm 80x80 - 2017
BRIDGES - 2017

The Agerica Cultural Association has organized a contemporary art exhibition in the prestigious rooms of the Civic Gallery of Palazzo Moncada located in the heart of Caltanissetta to celebrate the 52nd year of the twinning between the city of Caltanissetta and the US city of Rochester. The exhibition, entitled "Bridges - Crossings", was attended by numerous national and international artists, linked to the two twin cities, who presented works of painting, sculpture, photography and installations. The artistic direction was entrusted to the internationally renowned artist prof. Leonardo Cumbo

Here is the list of participating artists:

Tina Aldisi, Caterina Arena, Noemi Ballacchino, Andrea Cammilleri, Gaetano Cammilleri, Salvatore Cammilleri, Daniela Cannarozzo, Michele Cannavò, Patrizia Cataldo, Federica Ciulla, Girolamo Ciulla, Lorenzo Ciulla, Leonardo Cumbo, Arianna Di Romano, Sara Di Ventura, Salvatore Farina, Donatella Frangiamone, Ettore Maria Garozzo, Michele Ginevra, Lillo Giuliana, Carlo Guarneri, Edmondo Iannello, Luca Iannì, Michelangelo Lacagnina, Michele Lambo, Laura Matraxia, Lillo Miccichè, Dave Mohney, Veronica Nalbone, Fabrizio NicosiDanilo Riccobene, Giuseppina Riggi Bruno Pio Sari, Gaetano Scollo, Attilio Scimone, Carlo Sillitti, Franco Spena, Ira Srole, Mario Termini, Loris Viviano, Stefania Zappalà

CARMEN SANZSOTO

Y un mar en la cabeza - Los amantes

MICHAEL CRAIG-MARTIN INTERNATIONAL ARTIST AND MENTOR OF DAMIEN HIRST AT THE MEETINGS OF THE VISUAL ARTS CENTER

Sabato 11 dicembre 2010 - ore 11.30 presso il Salone dell'Annunziata, Chiostro di Sant'Agostino, Via Sant'Agostino 1, Pietrasanta (LU), Italy

While the diamond-encrusted skull of contemporary art super star Damien Hirst attracts crowds of visitors to Palazzo Vecchio, his mentor and teacher, artist Michael Craig-Martin will hold a seminar in Pietrasanta in the cloister of San Agostino on Saturday 11 December at 11:30 am, before going on a visit to the exhibition in Florence (where he will also visit Bronzino's anthology at Palazzo Strozzi).
Michale Craig-Martin who will participate in the teaching activity of the Visual Arts Center - is certainly one of the main protagonists of international contemporary art, returning from a series of prestigious exhibitions including that of the Irish Museum of Modern Art, at the Kunsthaus in Bregenz and the one at the British School in Rome with a catalog edited by Richard Long.
The seminars promoted by the Visual Arts Center in collaboration with the Municipality of Pietrasanta and the Academy of Fine Arts of Carrara have the purpose of investigating the various aspects of contemporary art through the experience of the protagonists, while promoting the territory by creating a circuit of illustrious international artistic presences.
Michael Craig-Martin,, was born in Dublin in 1941 and trained in the United States, studying Fine Arts at Yale University with teachers such as Joseph Albers, to return to England in the mid-1960s, immediately becoming one of the key figures of the first generation of British conceptual artists.
His sculptural works in those years marked a new path in the conceptual experimentation of plastic art, binding himself to minimalist principles and making use of 'poor household' materials by now his historic work An Oka Tree (1973).
The creative activity has always been accompanied by an intense theoretical elaboration, which has produced numerous writings.
This was combined with a teaching path with innovative methodologies, which began in 1974 at the prestigious Goldsmith College and continued in parallel with the artistic career.

Free admission

The 1980s marked the departure from the austere black and white that had characterized his works, to experiment with a wide range of colors in his relief sculptures, developing an aesthetic path in which Julian Opie, his pupil in those years at the Goldsmith, also participated. , later protagonist of Young British Art.
Similarly sculptures such as Istant Relief (1983), with images of medicines, testify to the mutual collaboration with his other pupil Damien Hirst (whose diamond-encrusted skull For the Love of God is currently on display at the Camera del Duca Cosimo I at Palazzo Vecchio in Florence) true super star of contemporary art, such as Tracey Emin (who represented Great Britain at the 2007 Venice Biennale), another famous student at the Goldsmith.


With his activity as teacher and promoter of young artists he has contributed in a decisive way to the birth and development of the last generation of British artists who have conquered museums, galleries and auction houses all over the world.
He was among the main promoters of the legendary Freeze exhibition (1988), involving personalities such as Norman Rosenthal (curator of prestigious institutions such as the Institute for Contemporary Arts and the Royal Academy) and Nicholas Serota (director of the Tate Gallery).
In this exhibition there were young art students such as Damien Hirst, Gary Hume, Sarah Lucas, Fiona Rae, Angela Bulloch, Mat Collishaw who later became real art stars.
In the 90s he rediscovers with decision the 'never abandoned' painting focusing on what have become his famous works on canvas and the complex pictorial installations and wall paintings.
Craig-Martin is represented by the Gagosian Gallery (at the top of the coveted Power 100 List of the most influential figures of the international art scene), currently on display until December 17 in the Athens headquarters, as part of the gallery's international program that sees at the same time artists such as Picasso (New York, Madison Avenue), Anselm Kiefer (New York, 24 West Street), Robert Rauschemberg (New York 21st Street), James Turrel (London), Takashi Murakami (Rome) are exhibited in the various Gagosian offices ), Cy Twombly and Jean Prouvè (Paris), Joan Mitchell (Beverly Hills), Alberto Giacometti (Geneva).
Craig-Martin's work is present in numerous prestigious collections such as the MoMA in New York, the Tate Gallery in London. He collaborates with the architects Herzog and De Meuron.

FERDINANDO DI MASO

il mio rito - 2008 - olio su tela

Sabato 21 Giugno 2008 alle ore 18.00 si inaugurerà il Parco dell'arte e l'annessa Galleria d'Arte Contemporanea della Fondazione La Verde - La Malfa, con sede in Via Pietro Nicolosi n. 29 - 95037 Trappeto - San Giovanni La Punta (Catania).

Il Parco dell'arte, pur avendo natura privata, sarà aperto al pubblico per quel giorno dalle 18.00 in poi e in orari da stabilire di volta in volta nei giorni successivi. Enti pubblici, Organizzazioni e Scuole che intendano far conoscere al pubblico di giovani e meno giovani questa struttura, voluta fortemente dalla Sig.ra Elena La Verde (scultrice, pittrice, incisore e, non ultimo, anche autrice di tutte le istallazioni del Parco), non dovranno fare altro che prenotare la visita ai numeri telefonici 095 7178155 o 338 5078352 o rivolgersi ai due uffici stampa di Catania e Palermo.

Elena La Verde - Il grillo

Le lune, Le grandi scale, La ragnatela, Gli amanti, L'ascesa, sono alcune delle grandi istallazioni disseminate nel parco che consta di diversi ettari. Sono previste per il Parco dell'Arte acquisizioni di opere di artisti di livello nazionale e internazionale compatibilmente con la disponibilità degli autori. Le opere di eventuali donazioni saranno collocate all'interno del Parco dell'arte a spese e cura della Fondazione. Resta inteso che ad ogni autore che intende donare la propria opera saranno assicurate la cura e la manutenzione della stessa. In questi giorni è stata acquisita l'opera Falco di Giusto Sucato, una installazione di oltre 4 metri di altezza che è stata collocata all?interno del Parco. Sono in corso inoltre contatti con altri artisti per ulteriori nuove istallazioni da sistemare all?interno del parco. È stata inoltre assicurata da parte degli artisti: Salvatore Provino, Turi Sottile, Enzo Sciavolino, Franco Mulas, Luciana Anelli, Orazio D'Emanuele, Franco Spena, Aurelio Caruso, Gilda Gubiotti, Franco Nocera, Pino Pingitore, Antonino G. Perricone, Antonella Affronti, la donazione di una loro opera alla Fondazione la Verde - La Malfa, che arricchirà il già cospicuo numero di opere che confluirà nella pinacoteca e che attualmente è costituito da lavori di: Ugo Attardi, Emilio Greco, Arman, Domenico Lazzaro, Girolamo Ciulla, Antonio e Tano Brancato, Valeriano Trubbiani, Elena La Verde, Sebastiano Milluzzo, Antonio Sciacca, Trento Longaretti, Aurelio Bulzatti, Remo Brindisi, Silvio Marchese, Giuseppe Platania e tanti altri.
Alla serata inaugurale interverranno: i critici d'Arte Aldo Gerbino e Giuseppina Radice che faranno il punto sulla Fondazione La Verde - La Malfa. Il critico d'arte Davide Bianco presenterà la mostra di sculture e di installazioni di Elena La Verde.
Viali ben curati invitano l'ospite a visitare ogni anfratto di questo parco e scoprire qua e là divertenti e immaginarie creature meccaniche partorite dalla fantasia creativa di Elena La Verde il cui amore sviscerato per l?arte ne fa una persona amabile e guardinga allo stesso tempo, con la quale però si istaura subito un ottimo rapporto di intesa.
Il Parco dell'arte è una sorta di incontaminato polmone verde situato tra i comuni di San Giovanni La Punta e Catania.

Fondazione La Verde - La Malfa
Parco dell'arte
Via Pietro Nicolosi n. 29 - 95037 Trappeto - San Giovanni La Punta (Catania)
Tel. 095 7178155 - 338 5078352
www.elenalaverde.it - ilparcodellarte@elenalavarde.it

Beniamino Figura

Gianluca

Virginia Caldarella

Si e' conclusa nel quartiere Ballaro' di Palermo la 5° edizione di " WOZ - Lab ", un laboratorio aperto di idee progettuali della durata di una settimana dove professionisti provenienti da diverse parti d'Italia si sono incontrati nel luogo prestabilito per "viverlo" sotto diversi aspetti ed elaborare dunque una serie di progetti finalizzati al miglioramento, al recupero e alla riqualificazione delle zone piu' degradate. Presso la Torre di San Nocolo', e' stata allestita per l'intera durata del workshop una mostra di opere d'arte realizzate dagli alcuni studenti dell'Accademia delle Belle Arti di Catania e Palermo. Il workshop, coordinato da Domenico Cogliandro e dai suoi collaboratori, si e' concluso il 30 Aprile con la presentazione dei progetti.

Domenica 8 Giugno ha avuto luogo a Graniti (Messina) la premiazione degli artisti vincitori del concorso internazionale di scultura "Open Space Artist Alcandara" . La cerimonia di premiazione si é svolta negli spazi esterni del nuovo Museo d'Arte dedicato al Maestro Giuseppe Mazzullo. Quindici artisti di varie nazionalità hanno dato vita per una settimana ad un grande laboratorio a cielo aperto a di Fondaco Motta, frazione del piccolo Comune messinese Motta Camastra situato nei pressi delle famose Gole dell'Alcantara, scolpendo grossi bolcchi squadrati di pietra arenaria che sono stati rapidamente trasformati in pregievoli opere d'arte. Questi i nomi dei partecipanti: Remo Belletti (Italia), Antonella Cirrito (Italia), Leonardo Cumbo (Italia), Claudio Diantoni (Italia), Egidio Iovanna (Italia), Sylvia Loew (Brasile), Sisto Lombardo (Italia), Leonardo Lustig (Italia), Gisvelto Mele (Italia), Carmelo Mingoia, Kyoung-Uk Min (Corea), Adolfo Picano (Italia), Francesco Rugiero (Italia), Mario Termini (Italia), Narcis Nicolae Teodoreanu (Romania). Una commissione di valutazione formata da autorevoli rappresentanti del mondo della cultura e presieduta dall eclettico maestro pittore, scultore e poeta Giuseppe Mannino, dopo un'attenta e per niente semplice valutazione hanno individuato i seguenti vincitori: Primo premio assoluto all'opera intitolata "Rivelazioni delle apparenze" di Leonardo Cumbo; Secondo premio ex aeqo alle opere "" di Remo Belletti, "" di Adolfo Picano e "" di Mario Termini; Terzo premio ex aequo alle opere "" di Egidio o Iovanna e "" di Gisvelto Mele. Oltre ad un premio in denaro gli artisti vincitori hanno ricevuto come trofeo una scultura in acciaio realizzata dal maestro siciliano Nino Ucchino.

Guillermo Guillemi


LEONARDO CUMBO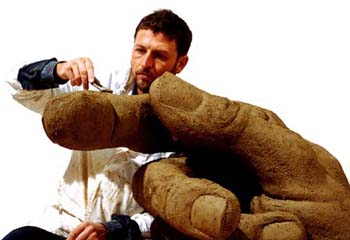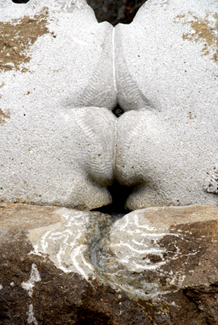 A multifaceted artist, he arrived at a completely personal, original and at the same time easy to read visual language, both through the use of more traditional materials and techniques, and through the experimentation of new expressive solutions using more contemporary means and tools. '.
"Expressive irony, the artist's leitmotif, is represented with a symbolism captured from the universe of everyday life through the creation of multimedia and interactive multi-material sculptures and installations and through the sculpting of large monoliths". Leonardo Cumbo is also interested in video art, photography, engraving techniques and digital art.
( artisti scultori siciliani contemporanei )
EXPO MILANO 2015
The sicilian artist Leonardo Cumbo exhibits the following works at the EXPO MILANO 2015 in the square of the Biomediterranean Cluster: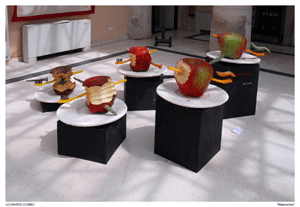 "Melamorfosi" multi-material installation in colored fiberglass, iron and plaster, which investigates the relationship between nature (apple, caterpillar) and technology (toothbrush, vine), between reality and imagination (the toothpaste that turns into a caterpillar), the ability of our sensory organs to perceive a transformation process in relation to the speed (or rather slowness) of its evolution. (from red / green unripe apple, to red ripe apple, to purple rotten apple) ...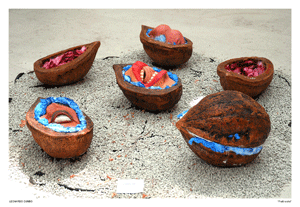 "Erotic fruits" multi-material installation composed of five large nuts in fiberglass, terracotta and cotton. The work focuses on the relationship between food and eros, intended as an essential tool for the survival of animal and plant species.
"Caleidoscopic landscapes", eight sicilian landscapes digitally reworked and printed on large aluminum plates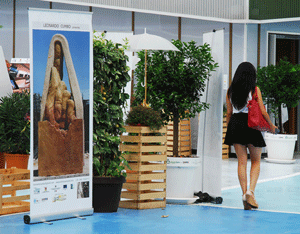 "Sabucina stone sculptures" ten 'roll ups' with images of monuments made by the artist with Sicilian stone for the public spaces of various municipalities in the province of Caltanissetta.
FREE FLY - HASANDEDE 2013
LEONARDO CUMBO ART EXIHBITION
catalog curated by Ugo Assogna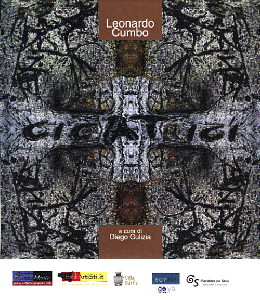 CICATRICI curated by Diego Gulizia
PORTOGALLO - Giraldes da Silva Gallery, Porto - 12/ 28 Feb 2011
SPAGNA - Cultural Center "La Estacion", Guillena,15/30 Apr 2011 - Palacio de Exposizicones "La Pergola", Castellon de la Plana, 13/15 May 2011
ITALY - Galleria d'arte " Villa Barile", Caltanissetta 16/19 June 2011
Lenardo Cumbo presents about 40 canvases, the result of his over ten-year research on surfaces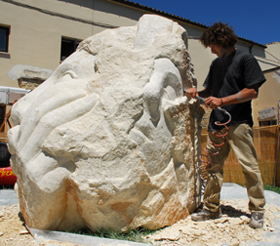 Cumbo at work in Cellino Attanasio (Teramo) - - - July 2008 -

ARTZ - Saragoza - Ottobre 2007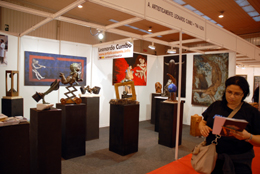 "Artisticamente" partecipates to "ARTZ" 6/14 Octuber 2007 in Saragoza - Spain

Memoria di pietra
The Sicilian artists Calogero Barba, Leonardo Cumbo, Arcangelo Favata, Lillo Giuliana and Giuseppina Riggi created 5 monumental sculptures for the artistic furnishing of the spaces live in the courtyard of the "F. Juvara State Art Institute" in San Cataldo city - Italy
work in progress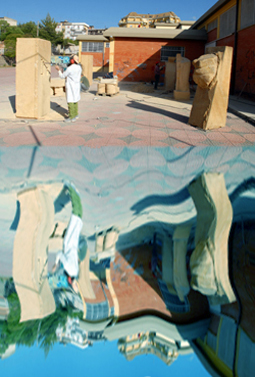 "Conductor Line" by Leonardo Cumbo, is a sculptural group in ceramic-coated terracotta and stainless steel placed in May 2007 in the historic center of Calitri, wich was rebuilt by the Regional Superintendence of Avellino after the disastrous earthquake that shook Irpinia area in the 1980s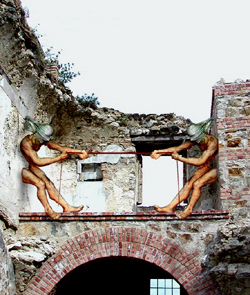 ARTISTI SICILIANI CONTEMPORANEI